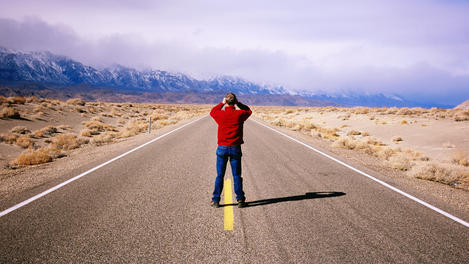 It's amazing how time flies. I remember writing about 'Resolutions,' in the first week of January as if it was yesterday. When the year began, many of us were geared up to make changes and improvements in the New Year.

The resolve to do things differently this time around was strong. But by mid-February, March, April and going forward, motivation starts faltering and the desire to effect change begins to wane.

Some of us persevere and are able to follow through, while some of us become less enthusiastic. It's easy to give up then.
Nonetheless, there is no better time like now to start cleaning house. Just as some of us feel an almost instinctual urge to do house cleaning often, this time of the year can be a good time to do some self-cleaning.

After all just like our homes, our calendars and lives can also become clogged with activities and responsibilities that we do not need or did not even realise we had left there in the first place.

So where do you begin? Get a clear picture of where you are now and where you want to go. Are you heading in the right direction? If not, what are you going to do about it? Why? Because a whole lot of "little things" may be taking you further away from the road that leads to health, happiness and success.

Ghana News Headlines
For latest news in Ghana, visit Graphic Online news headlines page Ghana news page
As I often like to say, "if something you are doing is not working or is taking you further away from where you ought to be, change it". There is no point in going on the same old road that leads to nowhere. I'll use driving as an analogy.

When you miss your turning you make a U-turn. Making a U-turn might seem inconvenient, but it's really about getting you back on track. No matter where you are now, you can reverse months of poor lifestyle choices by making better choices.

I have spent this month of June talking about how to simplify. Much has been said hence I am not about to drag you into a long drawn-out thesis.

To bring an end to this topic, I have chosen to talk about finding direction. Having a clear idea of your ultimate destination will help you to focus on the things that are truly important and cut out those that are not meaningful.

Without a road map, you will keep changing directions – no smoking for two months and then back to smoking, start a job and quit a few weeks after, break relationships, enroll in this course today and change your mind some few months down the line, not knowing what you want in life or what you want to do.

It is similar to a driver getting lost on the road because s/he doesn't quite know where it is that s/he is heading to; just simply driving along from one town to the next, hoping that somehow s/he will end up at his/her destination. It doesn't work that way.

To move from where you are now to the place where you want to be, you must make plans to go on a road trip. Then you must follow the directions that will get you to your destination.

As it is on the road; when you are going from Point A to Point B, so it is in life. If you have no idea of which road leads where, how can you get to your destination?

When I was a child, my father would often take us on weekend rides to Aburi and surrounding towns.

Although there were no road maps, obviously he had a mental road map of how to get there and back. Imagine for a moment that after asking us all to get into the car, he would then say to us, "Well, I don't know how to get there but let's just start driving and see where it takes us and hopefully we will eventually arrive at Aburi."

What do you think we would have thought of my father's competence?

Most of us want good health and wellness (spirit, soul and body), good relationships, happiness, financial security . . . Sure we have an idea of where we want to be, yet we have no real idea of how to get there.

I have to admit that there have been times when I have lacked direction, but I have always had the right people, at the right time, to point me in the right way.

So my advice then is this, if you are lost or can't find your way, ask for directions and make a U-turn if you have to. There's no point in driving around in circles: is there?

In her Conservative Party conference speech (1980), Margaret Thatcher said, "U-turn if you want to. The lady's not for turning". However, you my dear friend must make a U-turn if you are on a road that leads to nowhere.

Well, by now, I am sure you have got my message loud and clear, so I will leave you with this thought-provoking truth I read somewhere – 'there are three sorts of people in this world. People who go out and make things happen, people who sit back and watch things happen and people who simply wonder what on earth happened.'

Which sort are you? It's time to make the second half of 2013 your best. Go for it!

By Barbara Sai Djangmah
The writer is a Lifestyle Coach & Author of 'The Seduction of Food'