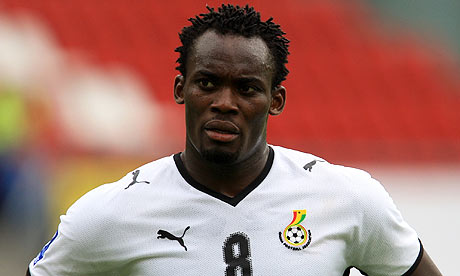 Chelsea star, Michael Essien, says he is still considering the decision to rejoin the senior national team, the Black Stars, adding that he was yet to make a firm decision.
He told the media yesterday that he would meet with the Ghana Football Association (GFA) to discuss a variety of issues before finalising the decision to rejoin the team.
But he felt short of disclosing when he would meet with the FA to discuss what he described as "pertinent issues".
The Ghanaian star, who was loaned to Real Madrid last season from London club Chelsea, spoke to the media when his charity foundation made a donation of GH¢80,000 to four charity organisations.
The beneficiary organisations are Stephen Appiah's StepApp Foundation, Ark Foundation, Sweb Foundation and Youth Development Research and Innovative Centre each of which received GH¢20,000.
The 31-year-old midfielder was satisfied with the performance of Michael Essien Foundation, saying, "It is very difficult to look for money for the foundation, but with the support and prayers of all, we are able to achieve our goals".
The first three beneficiaries were selected by global accounting firm, Ernst & Young, partners of the Michael Essien Foundation.
Co-ordinator of the Michael Essien Foundation, Akosua Puni Essien, said the money advanced to the beneficiary organisations would make a difference in the lives of many deprived people.
"We are certain about making an impact on the lives of the under-privileged," she noted.
She expressed gratitude to all those who have supported the foundation and hoped it would touch as many lives as possible.
Two weeks ago the Chelsea star led some world-class footballers, including some retired legends, to play in an Africa XI vrs World XI charity match at the Accra sports stadium as part of fund-raising activities by his foundation.
By Kwame Larweh