Residents in the Oti and Volta Regions will from Thursday, March 18, experience interruptions in their power supply as a result of scheduled maintenance works to be carried out by the Ghana Grid Company Limited (GRIDCo).
The power outages will last five days, after which normal power supply is expected to resume on Monday, March 22.
The outages would start from 6am to 6pm.
A request from the Ghana Grid Company Limited (GRIDCo) to the Electricity Company of Ghana (ECG) directed the latter to interrupt power supply to the two regions.
"The Ghana Grid Company (GRIDCo) has requested the Electricity Company of Ghana Ltd. (ECG) to interrupt power supply from Thursday, 18th March, 2021 to Monday, 21st March, 2021.
"This request is to enable GRIDCo undertake repair works on their transformer that supplies power to both Volta and Oti Regions through the 69 KV transmission line from the Asiekpe Bulk Supply Point," it said.
Below is the scheduled timetable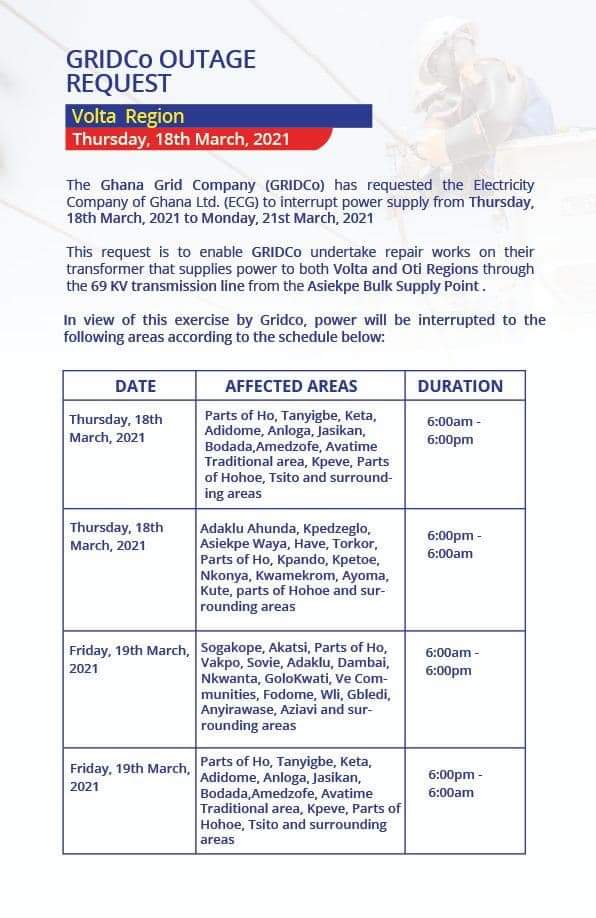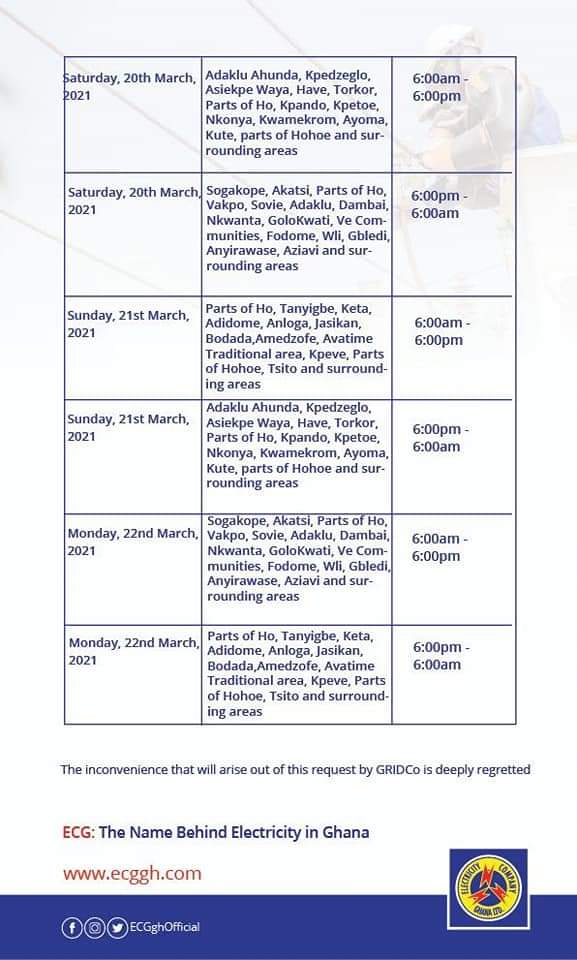 Some parts of the country have been experience intermittent power outages, raising concerns as to whether the country was returning to the days of erratic electricity supply, popularly known as "dumsor".
The Chief Executive Officer of GRIDCo, Mr Jonathan Amoako-Baah, has however assured Ghanaians that the country was not returning to the days of "dumsor".
He noted however that the country will, in the coming months, experience some intermittent power outages as a result of ongoing projects across the country.
"Indeed, the nature of the power system value chain, makes that impossible. As a crucial part of the entire value chain, overseeing matters on the transmission aspect of the process, GRIDCo wants to assure the country and all related stakeholders that none of the key participants in the value chain is resting on their oars, in an effort to maintain stability, accessibility, consistency and reliability of power supply at all times," he wrote in an opinion piece on Monday, March 15.