Usher to perform 2024 Super Bowl half-time show
Usher to perform 2024 Super Bowl half-time show
Usher will be the headline performer at the 2024 Super Bowl half-time show, it has been confirmed.
The R&B star follows in the footsteps of Rihanna, whose dazzling set last February also functioned as the announcement of her pregnancy.
"It's an honour of a lifetime to finally check a Super Bowl performance off my bucket list," said Usher.
"I can't wait to bring the world a show unlike anything else they've seen from me before."
The singer was one of the biggest stars of the late 1990s and 2000s, with multi-platinum hits including You Make Me Wanna, Pop Ya Collar, Yeah!, Burn and Confessions Pt II.
He previously played the Super Bowl in 2011, as a special guest of the lead act, Black Eyed Peas - where he performed a breathtaking leap over will.i.am before landing in the splits.
Usher had been rumoured as a potential headliner for this year's show, which takes place in Las Vegas, after extending his residency in the city's Park MGM hotel.
His participation is the latest result of the National Football League's partnership with Jay-Z's entertainment agency Roc Nation, which was signed in 2019 to boost the quality of the Super Bowl halftime shows.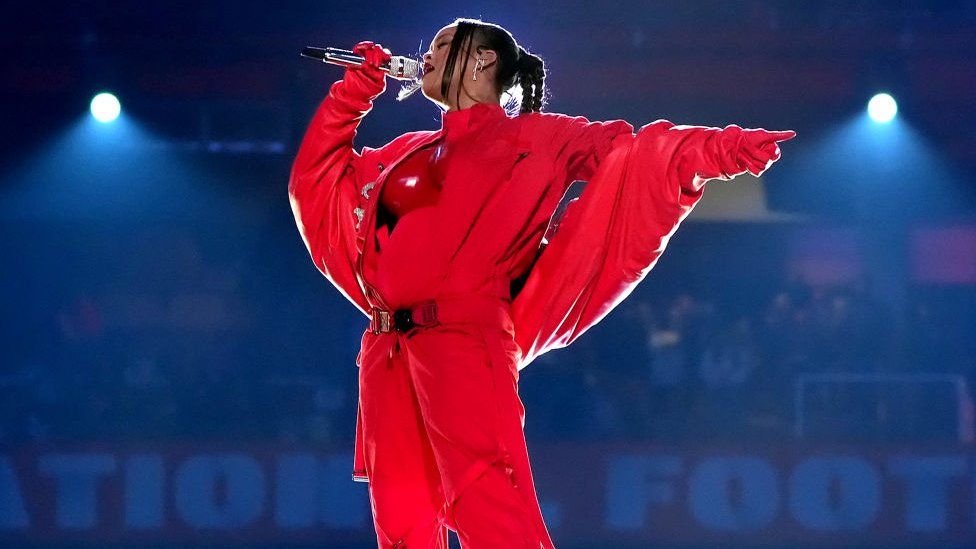 As well as Rihanna's show, the company delivered the 2022 all-star team of Dr. Dre, Kendrick Lamar, Mary J. Blige, Snoop Dogg, Eminem and 50 Cent.
The Weeknd headlined in 2021, with Shakira and Jennifer Lopez playing a joint set in 2020.
The booking is so prestigious that many people turn down a fee in order to play. That includes Rihanna, whose performance this year was watched by 121.017 million viewers - making it the most-watched half time show in history.
Cognisant of that audience, Usher will release a new album on the day of the Super Bowl. Titled Coming Home, it will be the follow-up to his 2016 release Hard II Love, which made the top 10 of the US and UK album charts.
Speaking to Apple Music's Zane Lowe, the star hinted that he may bring special guests to share the stage with him.
"Well, one thing I can say is I've collaborated with a lot of incredible artists throughout the years," said the singer, who has recorded duets with Alicia Keys, Nicki Minaj, Justin Bieber and 21Savage.
He also reflected on the legacy of stars like Michael Jackson and Prince, who brought R&B showmanship to the Super Bowl stage.
"You think about all the people who have played it and just the idea of how Jay-Z and Roc Nation have really brought a mindfulness to our culture," he said.
"Thirty years of a career deserves this kind of moment," he added. "Some people wait an entire lifetime, you know what I'm saying? But I don't feel like this is my lifetime. I feel like I'm only kind of starting to really, really get comfortable."
In a statement, Jay-Z said Usher would be a perfect fit for the concert.
"Usher is the ultimate artist and showman. Ever since his debut at the age of 15, he's been charting his own unique course," said the star in a statement.
"Beyond his flawless singing and exceptional choreography, Usher bares his soul. His remarkable journey has propelled him to one of the grandest stages in the world. I can't wait to see the magic."
Next year's Super Bowl will take place on 11 February, 2024, at the $2 billion Las Vegas at Allegiant Stadium.