The nine-year-old class four pupil whose dream to have a memorable last day of his school term, popularly called 'Our Day', says his motivation for the letter listing items he wanted for the day, was due to his mother's forgetfulness anytime he asked for something.
Oswald Gennuh, a pupil of Christ Ambassadors School at Dansoman in Accra, on Friday, July 30, was overwhelmed with gifts and love from various brands after the letter he wrote to his mother went viral on social media.
The list of items, which included a big bottle of coke for his favourite teacher, Mrs Appiah, was posted on Twitter by @SmylyThe3rd on Thursday and within hours, several brands had offered to sponsor the boy's dream.
In the letter, he also asked his mother to buy him items such as Pringles, a box of Ceres drink, soft drinks, biscuits and chocolates, and his iPad since he had been permitted by Mrs Appiah to bring it.
Oswald is such a fascinating & intelligent boy. I am absolutely thrilled by his story.

I am immediately sending to him the latest iPad Pro fully loaded with educational content just as he wishes.

Do have a memorable our day my gem. Will pay you & your class mates a visit soon. https://t.co/DPpGYw5Vaq

— Professor Naana Jane Opoku-Agyemang (@NJOAgyemang) July 30, 2021

Oswald with his parents after the Our Day celebration. Photo credit: Kobby Blay (Facebook)
Ending the letter, he implored his mother not to disappoint him as he did not disappoint her in his exams.
"Mummy, I am begging you, don't disappoint me on our day. It's my day on Friday so please don't disappoint me. Otherwise, you will ruin my day that if I don't celebrate well I'll have to wait for a long time again. I didn't disappoint you in the exams so please don't disappoint me," the letter read in part.
The letter caught the attention of brands including Stanbic Bank, Lifebuoy Ghana, Pizza Inn, the Trust Hospital, Dolait Yoghurt, KFC, Fan Ice Ghana, Blue Band, Ekumfi Plug, Bel Beverages, Access Bank, musician Kidi and Dominos Pizza, among others.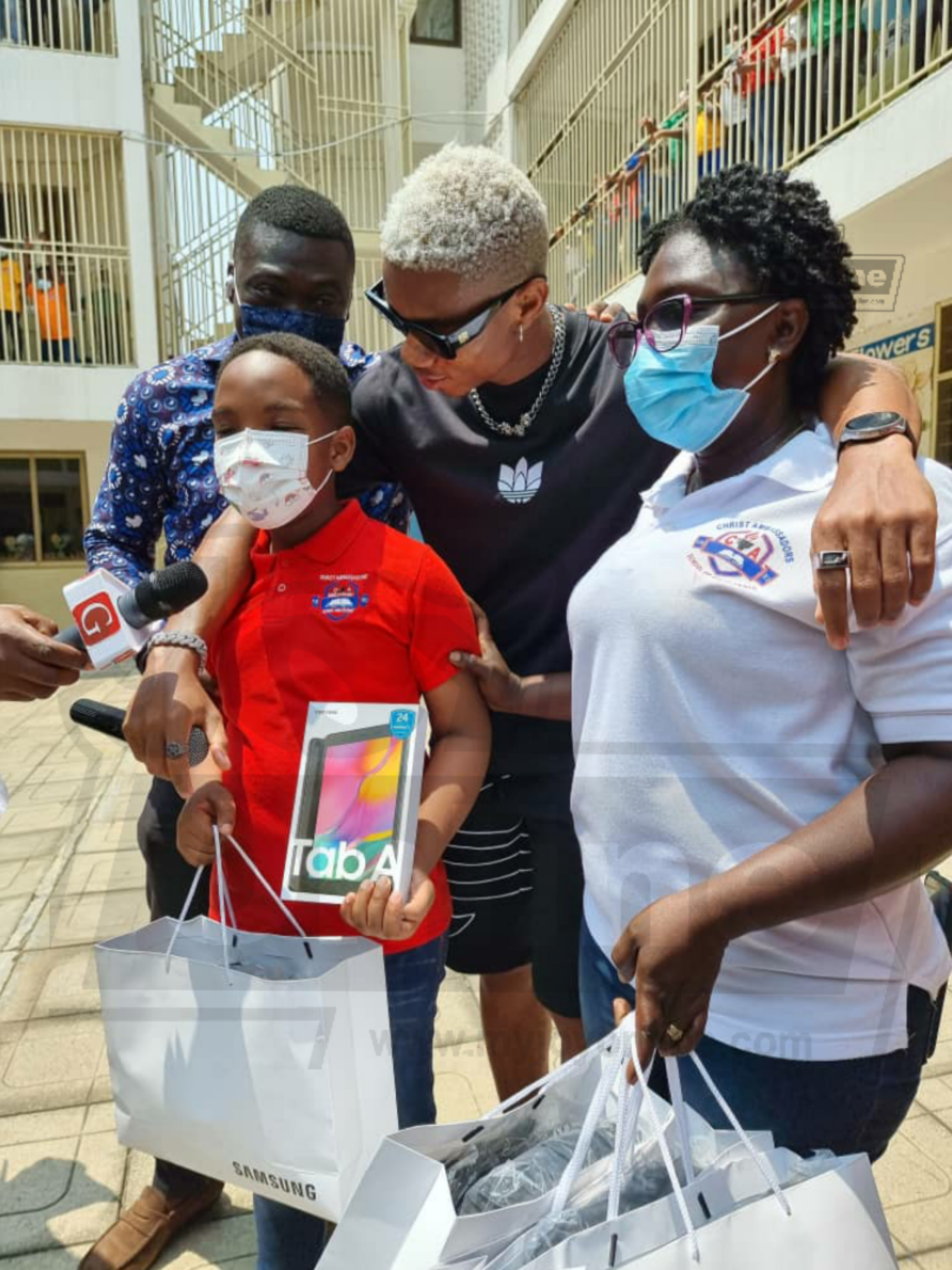 On Friday morning, the sponsors who had come there to fulfil their promises inundated Oswald's school.
His mother, Mrs Rita Gennuh, in a radio interview on Accra-based Joy FM, said she was overwhelmed by the outpouring of love and surprises.
According to Oswald, his motivation for the letter was due to his mother's forgetfulness anytime he asked for something.
Corroborating Oswald's statement, Mrs Gennuh said, "Oswald is very specific when he wants things and sincerely, I have the habit of telling him that I have forgotten. I kept doing that for some time; so now anytime he wants something, he would write it. So, when I come back to tell him that I have forgotten, then he will pull the paper out and he dates it so there's time evidence." 
"Mrs. Appiah is Oswald's favourite teacher, I have to give thumbs up to her because she's really helped him to settle in school.

Oswald is 9 years, he turned 9 not too long, he is stepping into year 4 in September"

- Mother of Our Day boy #JoySMS pic.twitter.com/xSVNXdChgV

— Joy 99.7 FM (@Joy997FM) July 30, 2021