Queen Elizabeth II has died aged 96, Buckingham Palace has announced. The Queen's death ends the longest reign in British history. She was also the world's oldest head of state.
Archbishop's prayers with the King and the Royal Family
The Archbishop of Canterbury, Justin Welby, has said in a statement that his "prayers are with the King and the Royal Family".
Quote Message: As we grieve together, we know that, in losing our beloved Queen, we have lost the person whose steadfast loyalty, service and humility has helped us make sense of who we are"
He added that the Queen leaves behind a truly extraordinary legacy "that is found in almost every corner of our national life, as well as the lives of so many nations around the world, and especially in the Commonwealth".
The archbishop says he met her on many occasions. He paid tribute to her "clarity of thinking, capacity for careful listening, inquiring mind, humour, remarkable memory and extraordinary kindness".
Shock and disbelief in Windsor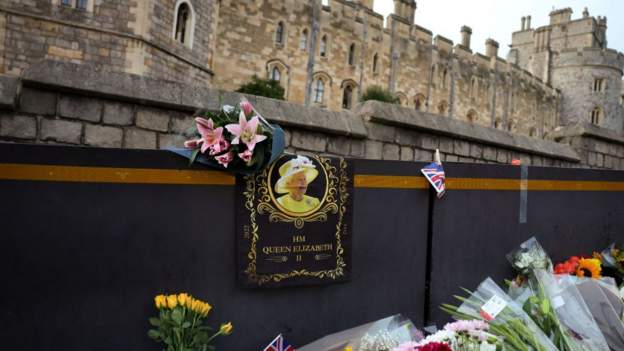 As the flag was lowered at Windsor Castle, and the announcement was made, there was stunned silence.
Shock. Disbelief. Her Majesty the Queen had died at the age of 96.
A woman next to me burst into tears. For most of the afternoon the rain had poured down in Windsor.
Soon after the announcement, the skies cleared, and a rainbow appeared.
Castle staff covered visitor signs in black paper. Crowds began to gather. They laid flowers. And candles.
Windsor Castle was the Queen's much-loved home. Locals here saw her as their neighbour.
They along with so many around the world, will feel her loss deeply.
Prince Harry arrives at Balmoral
The Duke of Sussex has now arrived at Balmoral, where a few floral tributes have already been laid, a few hours after his brother William and Princes Andrew and Edward.
Prince Harry will join other members of the Royal Family as they mourn the death of the Queen, who died earlier this afternoon.
His wife Meghan did not travel with him to Scotland.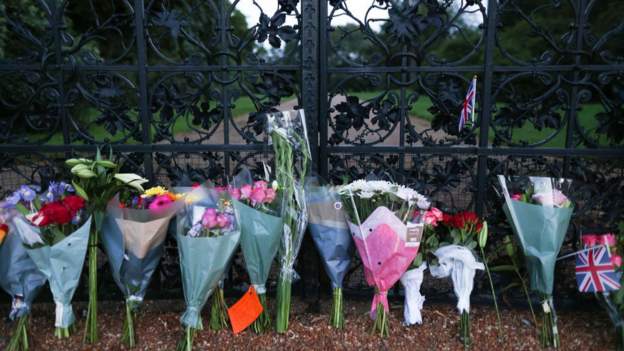 Biden leads international tributes to the Queen
Leaders from around the world have been speaking of their sadness at the death of Queen Elizabeth II.
US President Joe Biden spoke fondly of their first meeting in 1982 and more recently when she hosted him during an overseas trip in 2021.
Quote Message: She charmed us with her wit, moved us with her kindness, and generously shared with us her wisdom. She stood in solidarity with the United States during our darkest days after 9/11, when she poignantly reminded us that, 'Grief is the price we pay for love'. from Joe Biden President of the United States of America
French President Emmanuel Macron paid tribute, saying the Queen was a "kind-hearted" monarch and a "friend of France".
Quote Message: "Her Majesty Queen Elizabeth II embodied the British nation's continuity and unity for over 70 years. I remember her as a friend of France, a kind-hearted queen who has left a lasting impression on her country and her century." from Emmanuel Macron French President
Meanwhile, German Chancellor Olaf Scholz described the Queen as a "role model and inspiration for millions".
He praised her role in repairing relations between the UK and Germany after "the horrors of World War II".
Quote Message: She will be missed, not least her wonderful humour. from Olaf Scholz German Chancellor
Canadian Prime Minister Justin Trudeau said Queen Elizabeth was "one of his favourite people in the world".
Quote Message: She was a constant presence in our lives – and her service to Canadians will forever remain an important part of our country's history. I will miss her so. from Justin Trudeau Canadian Prime Minister