As astounding as these figures are, they're just another part of the economic effect of Taylor Swift's massive Eras Tour, which kicked off 17 March at 70,000-seat State Farm Stadium in Arizona, US. The tour has grossed an estimated $1bn, and will continue to smash records as Swift takes it to Canada, South America, Asia, Australia and Europe into late 2023 and 2024. Most dates are already sold out.
Throughout 2023, Swift's tour has generated massive revenue for each US host city, as fans spend to see her – in many cases, laying out thousands of dollars on tickets and lodging, outfits and merchandise.
"This isn't just about music or storytelling or brand – she is pioneering an economic model," says Dan Egan, VP of behavioural finance and investing at Betterment, a US-based financial advisory company. "Cities are constantly strapped for cash, so the impact of the Taylor Swift economy is that cities will have the revenue to invest in public infrastructure, transit, safety and planning." 
Swift is on her way to being a billionaire herself, but the real financial power of the Swift brand is found downstream with the industries – and individuals – that benefit from her presence. The numbers are staggering.
$5bn: Overall economic impact
In May 2023, the Federal Reserve Bank of Philadelphia noted in its Beige Book that Swift's Eras Tour stop was a boon for the city's tourism industry. The effect spread: the tour's opening night in Glendale, Arizona brought in more revenue for local businesses than the Super Bowl, held at the same venue earlier this year. Combined, there's a lot of money moving across the country: a June estimate from market-research firm QuestionPro estimated the economic impact of Taylor Swift's Eras Tour at $5bn for the US economy. 
After two nights of concerts at Paycor Stadium in Cincinnati, Ohio, the region's travel and tourism board Visit Cincinnati reported that Swift brought $90m to the greater Cincinnati area. Those concerts, held on 30 June and 1 July, each had about 60,000 attendees, many of whom travelled into the area for the shows. The hotels in downtown Cincinnati had a record-breaking 98% occupancy, and Visit Cincinnati noted the hotel revenue was double year-over-year; the visitor's bureau estimated that Swift is responsible for $7.9m added hotel revenue for those two concert days.
"A Taylor Swift concert is a vacation level of spending," says Egan. "It's about a good experience, not a good deal, and you're more comfortable spending a fair amount of money on it." 
Egan says framing attending a show like taking a holiday can help explain how Swift affects local economies: as fans spend more money in specific geographic regions, that money goes to businesses located there, employed by people who live there. When local residents make more money, they have more spending power, too. That cycles back into other local businesses.
On 14 and 15 July, Swift played two shows in Denver, Colorado at Empower Field at Mile High, to a combined 140,000 people – who overall contributed $140m to the state's GDP. What's impactful about this increase, says Egan, is that "Swift's GDP stimulation keeps a lot of the money flowing around in the local economy instead of it going somewhere else". Egan explains this is the opposite of what typically happens: most GDP spikes happen because of exports. Instead, with Swift, the money exchanges from person to person domestically, and is more likely to be recirculated within the country.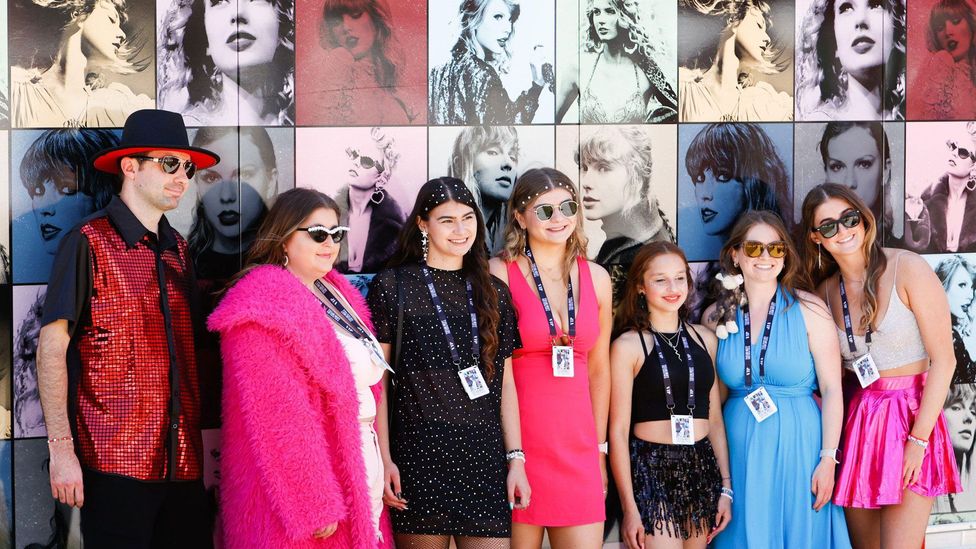 Some Eras Tour attendees spent hundreds of dollars to dress up for the shows (Credit: Alamy)
$1,300: Average spend by Eras Tour attendees
US Travel Association data shows Swift's fans spend an average of $1,300 (£1,059) on tickets, travel and clothing to attend The Eras Tour: a number far outstripping the usual cost of concert-going. In fact, that total is on par with spending by fans for the Super Bowl.
The average ticket cost is $254 (£207), but Egan says that for fans, the value isn't just the show – the anticipation and prepping play a major part in how people spend. The same QuestionPro survey showed fans spend nearly $300 on their attire to wear to the shows, and about $215 on merchandise at the concert. Attendees justify the extra spend as part of the memories, like a big trip.
"A Taylor Swift concert is one of those rare things where you get value out of it before you actually experience it," says Egan. "And her fan base has the buying power to spend money on these sorts of experiences." 
Not only are the 'Swifties' themselves laying out cash to attend, but people around them who don't even enter the venue are pumping money into the economy, too. For instance, parents are dressing up in their own right and holding pre-performance tailgate parties in parking lots.
Yet as eye-popping as the average spend is alone, Swift is performing 53 times in 20 different locations – not including the international dates that will add more than 50 shows to her repertoire, extending into next year.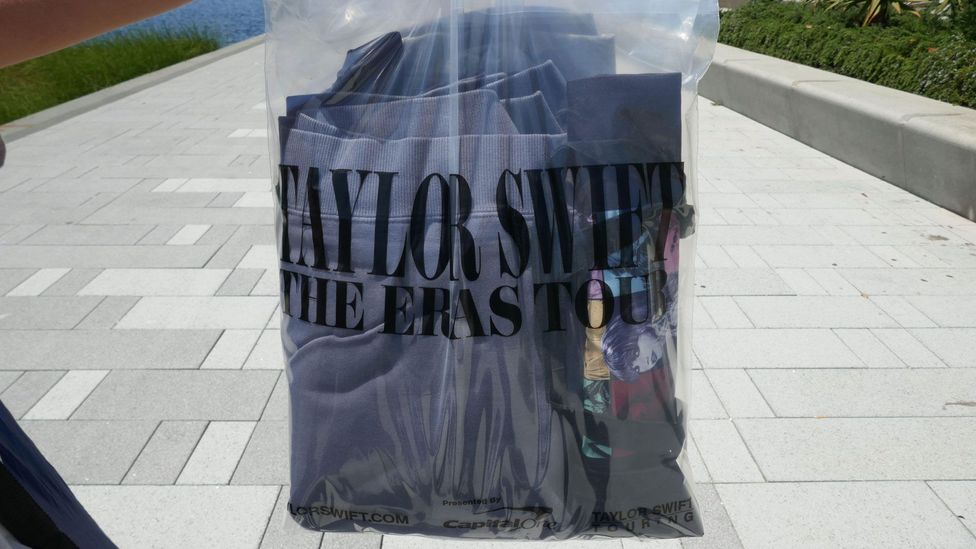 One survey showed Eras Tour attendees spent about $215 (£175) on merchandise (Credit: Alamy)
$55m: Bonuses paid to Swift's staff
Putting on a concert is expensive, says Egan, who notes the logistics involved, from stage production and catering, to backup dancers and costume designers, are extensive. And Swift herself seems to know it. 
According to TMZ, Swift paid a $100,000 bonus to each of the roughly 50 truck drivers who ferry her enormous production around the country. She also extended bonuses of varying sizes to the entire touring staff – all in at $55m for them to spend as they please.
Egan notes these windfalls – which often outstrip their recipients' yearly salaries – can be hugely influential. In some cases, he expects some of this money to pay down high-interest debt, which can increase people's spending power and eventually mean they can funnel more money into the economy. Egan also notes that these bonuses can "take the weight off both financially and psychologically. That really, really improves lives". 
Going, going…
The major numbers The Eras Film has already generated signals Swift will keep having an economic impact.
For one, theatres that have seen declining revenue as a result of the pandemic are poised to get a Barbenheimer-esque boost. Swift is releasing the film directly through AMC Theatres, with a 57% revenue split between herself and AMC, and the remaining 43% going directly to the theatre company.  The in-theatre experience is expected to be a big driver of attendance; Swift has already encouraged fans to sing and dance along during the show, almost as a second-hand experience for those who could not attend, and a way to re-live the moment for those who did. (And Swifties will notice that the very specific ticket prices for adults and children/seniors – $19.89 and $13.13, respectively – are fan easter eggs in and of themselves.)
And as the Eras Tour begins its international leg, this economic engine is poised to expand across the globe. Her fan base largely has the money, says Egan, and they're eager to spend it.